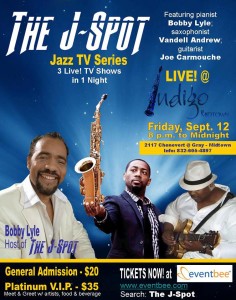 Houston's JAZZ TV Kickoff!
The J-Spot Live! TV Show filming of three, one-hour shows to air in Greater Houston area. This is the shows' first three performances in one night!
The J-SPot with host Bobby Lyle is a monthly jazz series event where Live! Jazz performances will occur on a monthly basis at Indigo Lounge – Midtown Houston, and in turn, these performances will be aired on five local cable providers through a collaboration with Houston Media Source public television cooperative.
The filming of the first three Live! shows is scheduled for Friday, Sept. 12 at Indigo Lounge – Midtown Houston, from 8 p.m. to 12 a.m. Indigo Lounge is located at 2117 Chenevert @ Gray, Houston, TX 77003
Performing on The J-SPot are: Bobby Lyle, internationally-reknown and Emmy award winning jazz pianist; Vandell Andrew, New Orleans' born and Dallas based smooth jazz saxophonist, whose song "Let's Ride" was #1 Billboard charts for five consecutive weeks this summer; and jazz guitar guru Joe Carmouche, smooth jazz performer and current public school music educator.
Tickets are only $20 general admission, presale and door
Platinum V.I.P. tickets are $35 presale – includes complimentary food and drink samplings and meet and great with artists.